Web Design

Website visitors unconsciously judge the quality of a website based on the visual impact it makes (or doesn't make) on them. Not only does your website have to look nice, it has to be simple to use, easy to read and logically organized.
I've been designing websites for several years and have developed an understanding of the tastes and behaviors of many different website visitors.
Web Development

I'm a bit of a perfectionist when it comes to writing the code and back-end functionality for the websites I create. I strive to adhere to web standards and ensure that sites work in all major web browsers.
If you have the need for some changes to the backend code of your current website, just let me know. I did some work like this recently for the Hodgdon Powder Company.
Here are web technologies I find myself using most often:
(X)HTML
CSS
ASP
PHP
JavaScript (especially jQuery)
E-mail Marketing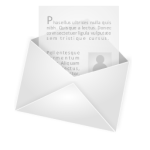 Sending out e-mail messages to your customers can be an easy and cost-effective method of drumming up more business. I can help you design, write and plan a successful e-mail marketing campaign that can help stimulate sales, advertise a promotion or just update your loyal customers.
Website Maintenance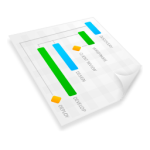 If you've got a website that is working for you but the information needs updating, I can help with that too. If you like, I'd be happy to make some suggestions about how the content of your website could be improved upon.
Stephen F. Austin State University
I was the primary designer and developer of the current version of Stephen F. Austin State University's main website.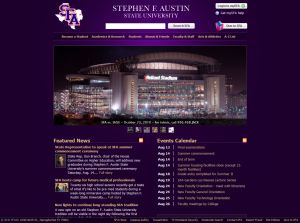 Visit the SFASU website
Aledo Middle School Band
This custom-built site was created to be easily maintained by the band director and serves as a informational tool for students in the Aledo Middle School Band and their parents. The site was specifically developed to be updated using Adobe Dreamweaver.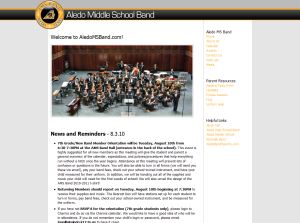 Visit the Aledo Middle School Band website
SFA Lettermen's Association
A Drupal-managed site that meets the requirements of the association including the ability to pay membership dues online, maintain contact information for members and send out periodic e-mail newsletters.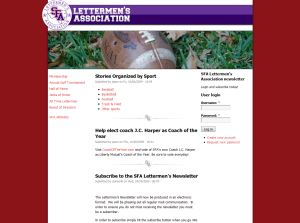 Visit the SFA Lettermen's Association website
Contact Jason
If you're wanting me to build you a website or do some work on your existing one, complete Johnstone Media's new project worksheet. You'll be glad you did. I'm also on Google+